Machines
We are a company that produces, except markers, specialized machines and equipment. In this section, we'll be offering some of the machines used to make markers or machines that don't have anything to do with markers.

The first machine we'll be offering is one of the last ones that participates in the marker process - The Super Critical CO2 (Carbon Dioxide) Washing Machine.

It isn't actually a machine, but an entire installation. After several years of research, carbon dioxide was determined to be most effective when cleaning the markers. This is because it is an excellent dissolvent of fats and stains, and simply evaporates with no traces. This is important for a Class IIa medical device. It can also be used to wash anything else, not just markers, like lenses, or other small and precise parts.

Due to obvious reasons, we can't show a picture of it, but we can give its techinical data. Here's some of it:

Washing basket diameter: 200mm
Washing basket height:120mm
Work time: approximately 40 mins
Power supply: from 80 to 220V AC
It also needs access to the sewer network, needing about 10 L/min for the time of the cleaning.
Needs two steel bottles of carbon dioxide(not included in the delivery).
It uses the carbon dioxide several times, by filling up the losses from the bottles.
We also recycle the C02, to be more eco-friendly.
It doesn't have a dislpay, and only has two buttons - start and emergency stop.
We prefer these types of machines, that are easy to use, even from workers with low qualifications.
It still uses a computer to function though.

Price: by negotiations.
Delivery time: 6 months after the LC has been opened.

A heavy duty flashlight specifically modified for testing the retro-reflectiveness of the markers: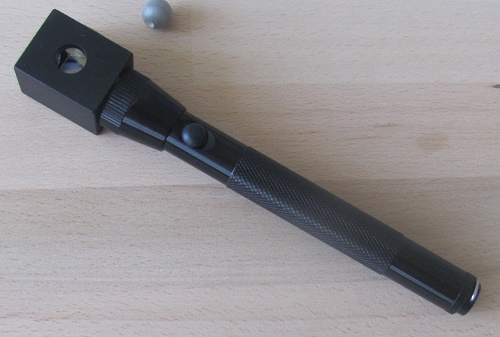 Long-life batteries included. User-friendly and easy to work with. Fully aluminum. Price: 20 Euro.